With an annual turnover of 90 billion euros, the automotive manufacturing and service industry in the Netherlands is a sector of vital economic importance. A sector that employs more than 100,000 people. And a sector known for its capabilities and innovation. We have suppliers of both car parts and services, as well as mobility providers active in maintenance, sales, rental and leasing. These companies also play an important role internationally in the transition to sustainable, safe and accessible mobility.
In this three-part series, we spotlight each of these three themes and speak to companies where innovation takes centerstage. Their common denominator is that they competed in the Automotive Innovation Award, an initiative of ANWB, BOVAG, LeasePlan, RAI Association, RAI Automotive Industry NL and Roland Berger to raise awareness of the sector's innovative power. Every two years, these prestigious awards are presented to Dutch companies with promising innovations. Innovations that make mobility smarter, cleaner, more efficient and safer. The Automotive Innovation Awards 2024 will be presented during an exclusive dinner on Monday, February 5, 2024.
Safety is the focus of this second article in the series. Or, to be more specific: how can we improve safety in mobility?
Safer through innovation
You can set your clock by it: after the summer vacation, billboards, banners and posters once again span the streets, calling for us to be mindful of the children now biking to school. This campaign from Veilig Verkeer Nederland is still very necessary. Every start of the school year, there are a remarkable number of traffic accidents involving schoolchildren. Compared to the rest of the year, this group of road users suffers almost twice as many traffic casualties in the first weeks. This is the time when schoolchildren have to adjust to the fact that vacation is over, and that they have to be somewhere on time; they have to get used to a new bike route or a new bicycle. It gets dark earlier, and traffic gets busy again.
Cyclists are vulnerable anyway – 39% of traffic fatalities in 2022 were cyclists, followed by passenger vehicle occupants at 31%. These figures come from the "Road Deaths in the Netherlands" fact sheet that was released again in April by SWOV, the Dutch national scientific institute for road safety research. Most traffic deaths occur among the elderly: in 2022, 399 (54%) traffic deaths were individuals 60 years old or older. Relatively speaking, children under age 14 rarely die in traffic accidents; in 2022 there were 23 (3%). All in all, we still have a long way to go toward our goal of zero traffic deaths by 2050.
For many years, we saw a decline in traffic fatalities, but according to SWOV that ended last year. 2022 saw 155 more deaths than in the previous year, bringing us back to pre-2009 levels. How can this development be reversed, and how can innovations help? This demands safe vehicles, safe roads and safe driving behavior.
Safe vehicles
Anyone who thinks of vehicle safety thinks of the well-known crash tests conducted by Euro NCAP – an independent non-profit that tests car safety using a five-star rating system. These standardized crash tests reflect passive safety, the safety of people in and near the vehicle, during and after the crash. But Euro NCAP also tests active safety systems, those designed to prevent collisions. These are the advanced driver-assistance systems, or ADAS for short. More and more vehicles are being equipped with ADAS, like adaptive cruise control (ACC) or autonomous emergency braking (AEB).
Since 2022, the EU has made ADAS mandatory in new cars. These include advanced emergency braking systems, driver drowsiness and attention warnings, lane-keeping assistance and intelligent speed assistance. There are about 30 systems in total. At first, this directive only applies to newly designed car models, but starting in 2024, all newly registered cars must comply.
According to research from the Data Analytics Centre (DAC) of the Dutch Association of Insurers conducted in 2021, ADAS does support road safety. Some of these systems actually reduce the chance of being involved in an accident by about 67%, compared to cars without ADAS. Lane-keeping assistance (LKA) and rear collision warning (RCW) in particular have a positive impact.
From a legal and regulatory standpoint, the Dutch Ministry of Infrastructure and Water Management distinguishes between driver assistance and emergency assistance ADAS. Driver assistance systems support the driver in performing tasks for operating the vehicle, whereas emergency assistance systems take over an element of operations to prevent incident. That being said, final responsibility always lies with the user. A step further are automated driving systems (ADS), which can perform (parts of) vehicle operations completely independently. In this case, final responsibility lies with the manufacturer.
______________________________________
RheoLight: AIA 2021 finalist
"RheoLight provides a much better representation of an object in any situation. And I mean rendering in light as well as color," says Paul Mijnen, CEO of Ink Invent. The Dutch company has developed a pigment for coatings that provides higher visibility in dark conditions. Applying a coating with this pigment, known as RheoLight, thus improves road safety. With this innovation, Ink Invent was one of the finalists for the 2021 Automotive Innovation Award.
"In the headlights of your car, in the dark, you normally only really see the part of another car that is perpendicular to your viewpoint. The same is true for cameras or LiDAR systems, which are nowadays part of ADAS or ADS." By applying RheoLight, the color and shape of the other vehicle becomes more visible to the human eye, a camera or a LiDAR system from any angle. Cars, trams and buses with a dark or metallic color, as well as vulnerable road users like cyclists and scooter drivers, are seen earlier and better. And it also means that you can determine the type of vehicle you see with much higher reliability.
The coating can also be used, for example, for motorcycle helmets or elements in road infrastructure. "An additional advantage is that a new range of beautiful paint and plastic coloring becomes possible, which you would not be able to get without our pigment," Mijnen continues. "We have just finished developing the second generation of RheoLight. With this, we meet the strictest quality requirements, namely those of the automotive industry."
Other studies have shown that RheoLight also has a significant retarding effect on the warming of treated objects. Its heat reflection ensures that cars, helmets and objects with larger surfaces coated with the pigment stay cooler for longer.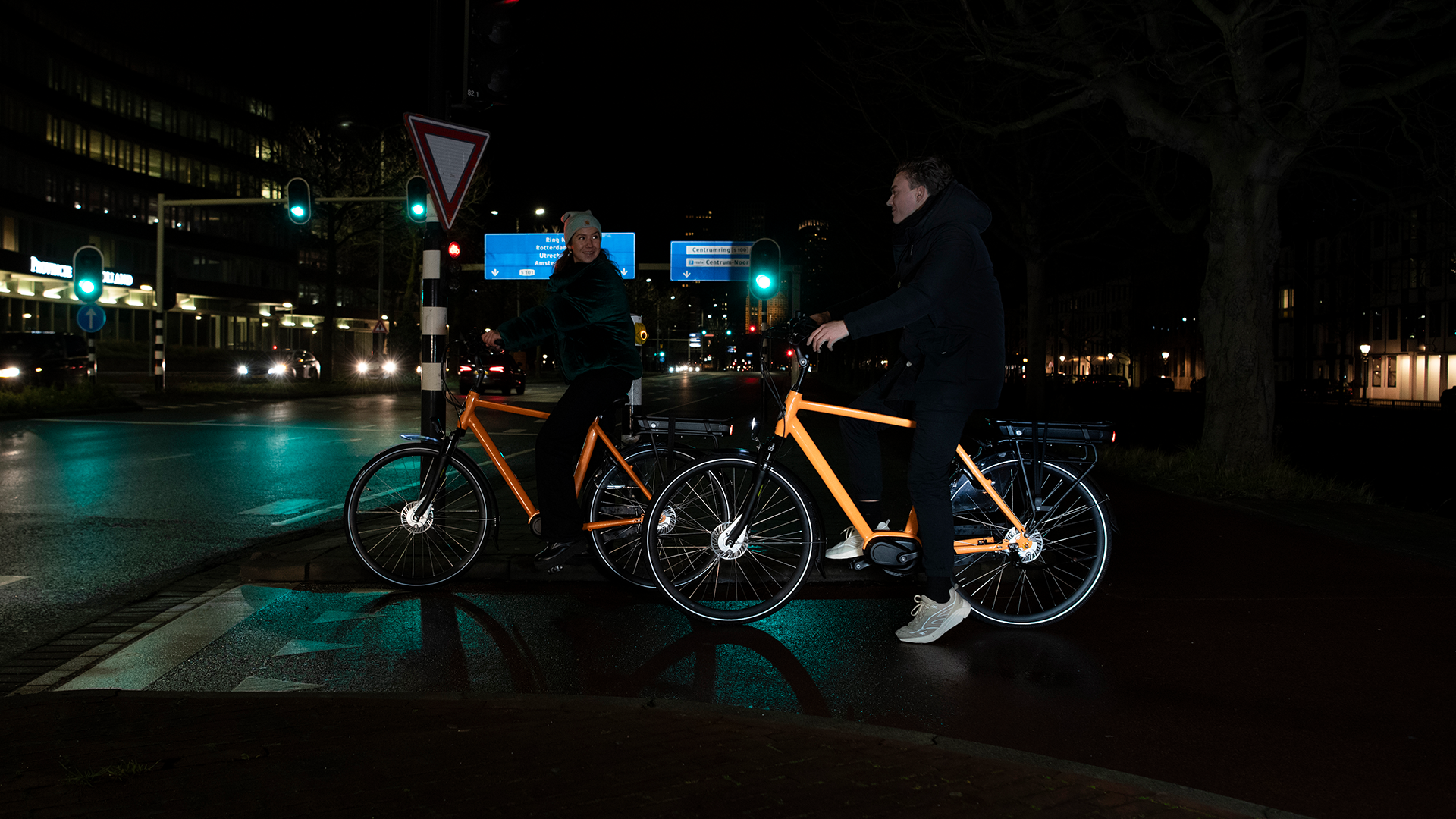 ______________________________________
Safe infrastructure
In reducing the number of traffic accidents, the safety of the road itself is also important. The SPV, a strategic plan for traffic safety, names two factors that play a role here: the speed limit and the design that goes with it, within and beyond urban areas.
For example, the main requirements for a 50 km/h road in an urban area are: no parking on or next to the road, clearly marked lanes, crossings for pedestrians and cyclists, and the ability for slow traffic to use a bike path or frontage road.
For years, Veilig Verkeer Nederland has been advocating to lower the speed limit in urban areas to 30 km/h to reduce the number of traffic fatalities and injuries. This is easier said than done: to do so, a road authority must first demonstrate that the lower speed is desirable. Then the road design must be adapted accordingly by applying elements like speed bumps and lane narrowings. Such road work makes the implementation of a lower speed costly and difficult. Since late 2021, there has been a request in the House of Representatives to amend regulations to make 30 km/h the norm, rather than 50 km/h. However, such a change would be quite complicated.
More generally speaking, traffic safety also depends on the quality of the road, in any weather condition, including the state of the road surface and the presence of traffic signs. Lastly, advanced traffic management systems also play a role. These systems monitor and regulate traffic to prevent accidents and traffic jams.
Safe driving behavior
In addition to road and vehicle characteristics, the behavior of road users also plays a role in many accidents – according to an international study, in about 90% of them. This includes risky traffic behavior, like driving under the influence, speeding and using a smartphone. Steering errors, drowsiness and other forms of distraction can also cause accidents. Such behavior is influenced by several internal and external factors, such as personal characteristics, social pressures and traffic conditions.
But what does "safe road user" mean exactly? According to the SPV, this question can be answered by looking at four indicators (risk factors). It depends on the extent to which the driver:
Is sober, as in not under the influence of alcohol, drugs or medicine;
Uses safety equipment like seatbelts, helmets or child seats;
Makes sure the vehicle is sufficiently visible (case: RheoLight);
Pays attention to traffic, is not using a phone, and is not too tired to drive (case: SafeDrivePod).
A "safe road user" must also possess the necessary knowledge and skill – thus the importance of education and training.
______________________________________
SafeDrivePod: AIA 2021 finalist
"Many people have a hard time ignoring notifications from their smartphone, even when they're using the road. But this is exactly when a few seconds of distraction can cause an enormous amount of damage," explains Paul Hendriks, co-founder of SafeDrivePod. SafeDrivePod develops solutions that help make traffic safer and more sustainable. The core of the solutions lies in a small device, the size of a coin, that is mounted in or on a vehicle and that records movements: the SafeDrivePod. By combining this innovative device with the SafeDrivePod App, all kinds of functions are possible. This innovation earned the company a place in the final round of the Automotive Innovation Award in 2021.
"SafeDriveFocus automatically blocks your smartphone's screen when driving and prevents you from being distracted. Handsfree calling and navigation are still possible," says Hendriks. This drastically reduces the risk of an accident. Another application of the "pod" is SafeDriveResponse. In the event of a collision, data on g-forces and the impact of the collision on the vehicle, possibly in combination with GPS coordinates, are sent to a receiving party via the app. This could be the insurer, the leasing/rental company, the employer or the driver's loved ones. This way, immediate and targeted help can be called, contact can be made with the driver, and the claim settlement can be completed digitally.
SafeDriveMotion monitors driving behavior. From the moment the vehicle starts driving, the app measures acceleration, braking and steering movements without using GPS. The driver receives tips about their driving style. This awareness helps them drive more calmly and economically. And that saves costs. Hendriks continues, "In our society, it is taken for granted that employers do everything they can to create a healthy and safe working environment. With SafeDrivePod, we want to help companies help their employees participate in traffic safely."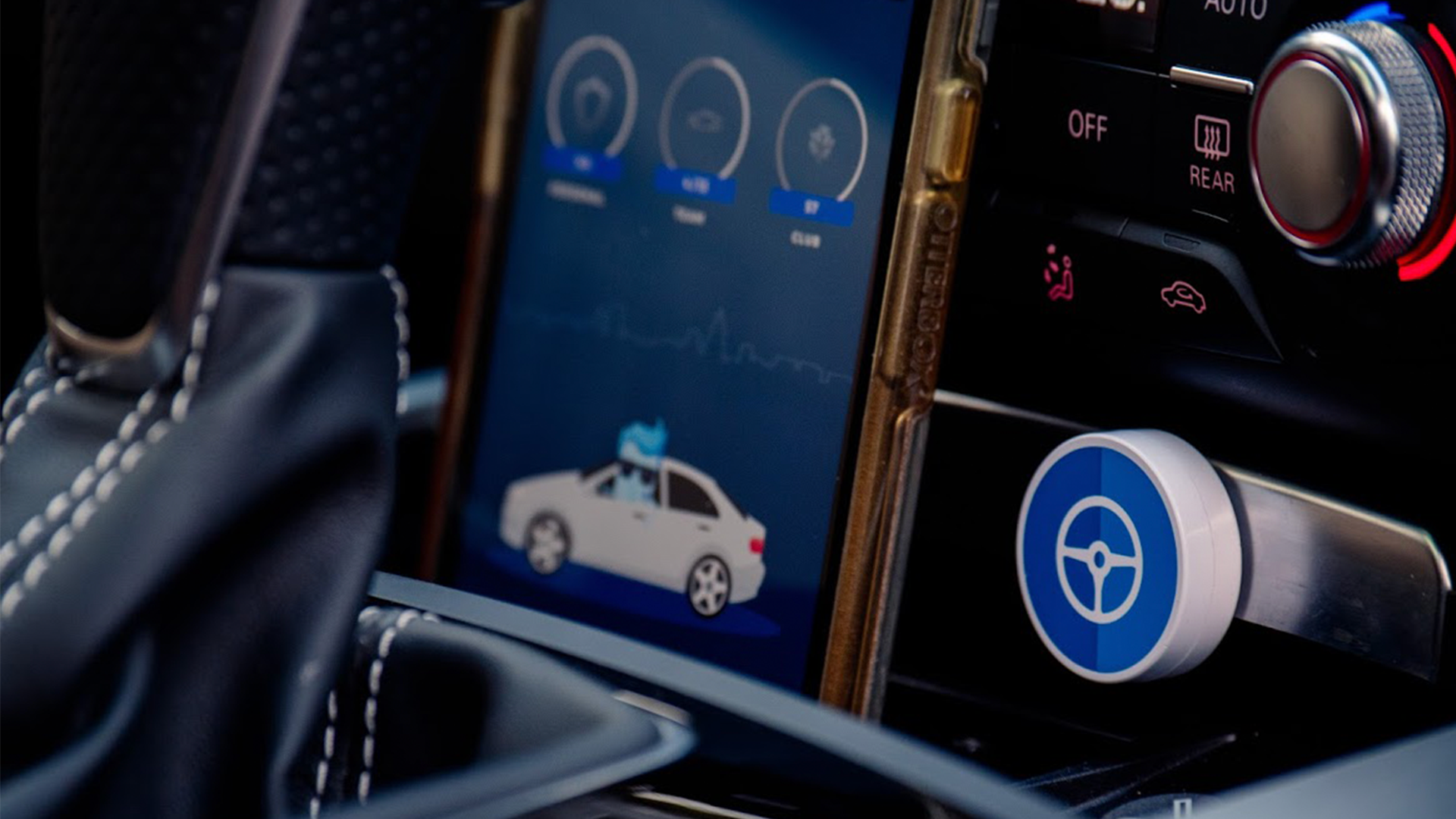 ______________________________________
Interaction
Ultimately, the "safety of mobility" is determined by the interaction between the driver's behavior, the characteristics of the vehicle and the situation on the road. For example, ADAS (as mentioned) has a positive effect on safety, but the same systems can also lead to reduced alertness among drivers, a phenomenon known as "automation complacency" – which has a negative impact on safety. Drivers must therefore use (and learn to use) driver assistance and emergency assistance systems consciously. It is also important to note that ADAS only functions optimally if road markings and signs are clearly visible, and the digital infrastructure is in order.
Creating a safe mobility environment therefore requires cooperation between governments, road authorities, manufacturers, driving schools and many other stakeholders. Innovations in technology, in combination with education and awareness, are needed to further improve road safety and ultimately reduce the number of road fatalities to zero.