With an annual turnover of 90 billion euros, the automotive manufacturing and service industry in the Netherlands is a sector of vital economic importance. A sector that employs more than 100,000 – mostly highly educated – people. And a sector known for its capabilities and innovation. We have suppliers of both car parts and services, as well as mobility providers active in maintenance, sales, rental and leasing. These companies also play an important role internationally in the transition to sustainable, safe and accessible mobility.
In this three-part series, we spotlight each of these three themes and speak to companies where innovation takes centerstage. Their common denominator is that they competed in the Automotive Innovation Award, an initiative of ANWB, BOVAG, LeasePlan, RAI Association, RAI Automotive Industry NL and Roland Berger to raise awareness of the sector's innovative power. Every two years, these prestigious awards are presented to Dutch companies with promising innovations. Innovations that make mobility smarter, cleaner, more efficient and safer. The Automotive Innovation Awards 2024 will be presented during an exclusive dinner on Monday, February 5, 2024.
Sustainability is the focus of this first article of our series. To be more specific: how can we reduce CO2 emissions from transportation?
Riding with the punches
The world's population is expected to continue to grow in the coming decades, as will the economy. Mobility demand will also keep rising. If no effective measures are taken, this will lead to even more CO2 emissions. To prevent this, we need ambitious policy measures and innovative technologies. A tough challenge, but one that brings plenty of opportunities for our economy.
When it comes to innovation in the automotive sector, the Netherlands stands among the global top. This is evident in the case of electric vehicles, for example, where developments are happening at lightning speed. The use of electric vehicles is becoming an increasingly interesting option to reduce the emissions from our rising need for mobility – especially now that more and more electricity around the world is generated without carbon emissions, for example by using the sun or wind.
Advances in electric driving
Things are moving in the right direction. Data from the International Energy Agency (IEA) indicates that the electric car market is seeing exponential growth: by 2022, more than 10 million electric cars were sold worldwide – that's 14% of all new cars sold. In 2021, the electric share of new car sales stood around 9%, and in 2020 less than 5%. The largest market is China, which accounted for about 60% of global electric car sales in 2022. In Europe, the second-largest market, more than one in five cars sold were electric. Sales of electric cars in the United States – the third-largest market – rose 55% in 2022, reaching an 8% share. In 2023, electric car sales are expected to continue this rapid growth, with the sales share rising to 18% worldwide, helped in part by high oil prices and supportive government policies.
Commercial vehicle fleets are also increasingly electrifying. Global sales of electric light commercial vehicles (LCV) saw a more than 90% increase to reach over 310,000 vehicles by 2022, while total LCV sales declined by almost 15%. Nearly 66,000 electric buses and 60,000 medium- and heavy-duty trucks were sold worldwide in 2022, accounting for about 4.5% of all bus sales and 1.2% of truck sales.
In some countries, such as Finland, governments have pledged to reduce emissions from public transport. This has encouraged the sale of electric buses. By 2022, more than 65% of all buses sold in Finland were electric.
New providers growing faster
Zooming in on electric vehicle sales figures, one can see an interesting disparity between the more conventional manufacturers, such as BMW, Mercedes-Benz, Audi and Volvo, and the newcomers such as Tesla, Nio, XPENG and Rivian. Whereas the traditional brands show an average growth in sales numbers of 39% per year over the period 2020 to 2022, the newcomers are up 71%. This can be partly explained by the fact that these new brands are also making fast-charging networks available to their drivers – an important added value. Tesla, for example, now operates some 45,000 superchargers worldwide, while NIO has 1,300 battery swap locations in addition to 13,000 charging spots in China.
______________________________________
Ebusco
One Dutch company responding to the growing demand for electric public transport is Ebusco. The young, publicly traded company develops 100% electric city and regional buses and an array of complementary products and services such as chargers and energy storage systems. Innovation and sustainability are paramount in Deurne, where the company is headquartered. In 2021, Ebusco won an Automotive Innovation Award with the Ebusco 3.0.
Like its predecessors, the Ebusco 3.0 is an electrically powered bus. However, by using composite materials (like in aircraft), it is 33% lighter. This results in lower energy consumption and a longer range. Because battery packs are very heavy, the weight reduction required a great deal of innovation.
Another advantage of composites is that they do not age as quickly as steel, so the bodywork lasts up to two times longer. This means that only the interior and batteries of the bus need to be refurbished, resulting in much lower costs and environmental impact compared to manufacturing a new bus.
Innovation is also the service concept. Maintenance is predicted using digital, real-time fleet management systems. This prevents buses from breaking down. If requested, Ebusco can handle maintenance for the lifetime of the fleet. "Ebusco has been making public transport more sustainable since 2010," says Peter Bijvelds, founder and CEO of Ebusco. "The 3.0 is the most innovative bus in the world. From the Netherlands. And it contributes to a better living environment. Right now, 1 in 5 buses are electric. We are going to accelerate the transition, because over the whole lifecycle our bus is cheaper. And that's important, because 'green is nice, as long as it does not affect the price'."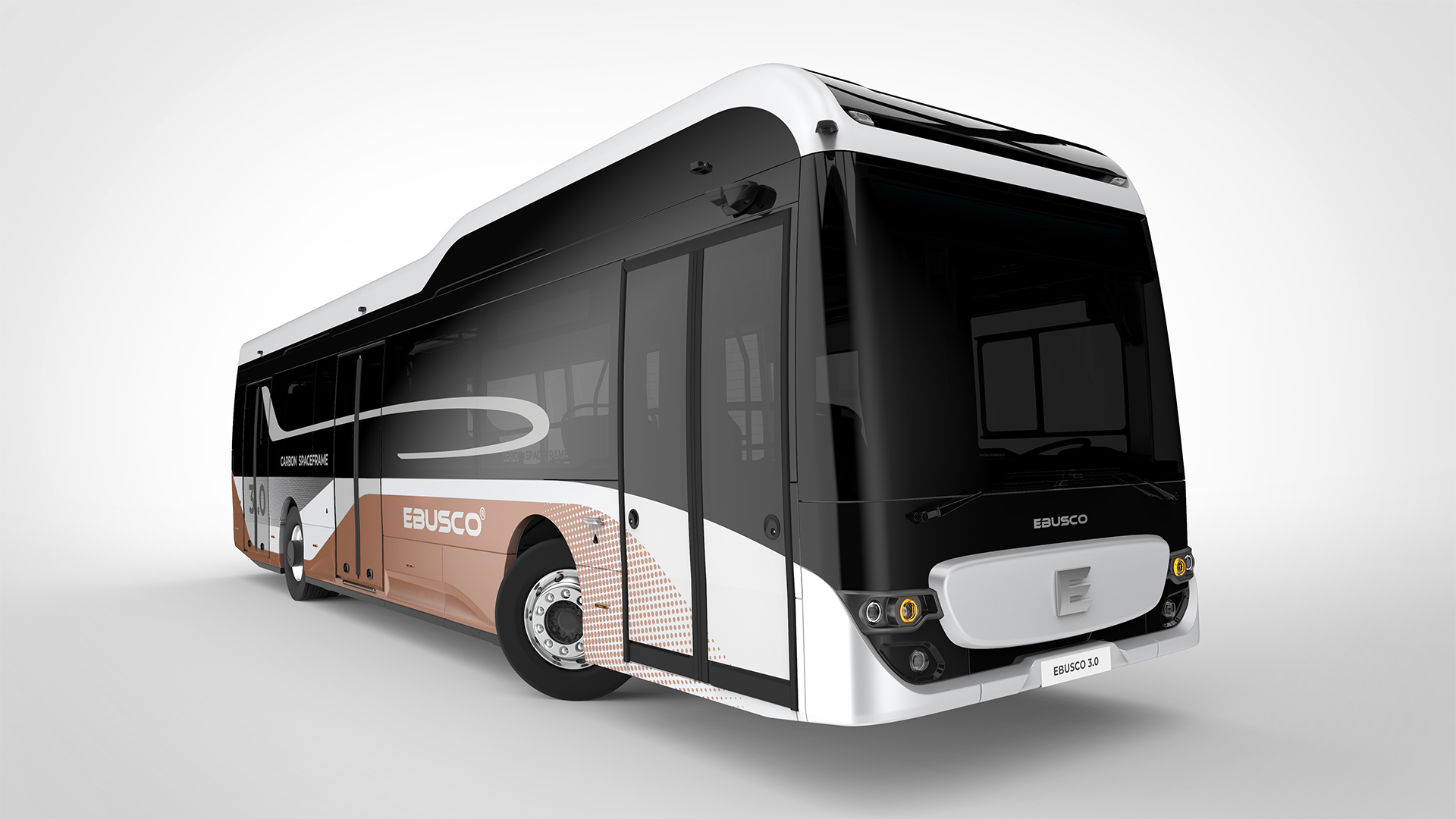 ______________________________________
Chip shortage
There are still some hurdles on the way to accelerating the growth and development of the electric vehicle market. For example, the industry continues to struggle with a shortage of computer chips. This is a ripple effect from 2020, when the world came to a standstill due to COVID-19 and the market expected an economic slowdown. Chip production fell sharply, but when demand for new cars rose more quickly than expected, production could not scale up fast enough. This created problems in the production of all types of cars, but especially electric cars. Electric cars contain many more chips than conventional internal combustion engine cars, making chip availability crucial to the transition to electric driving.
High energy prices
Another factor stunting electric vehicle sales is higher electricity prices. In the spring of 2022, the war in Ukraine caused electricity prices in Europe to rise. The higher "total cost of ownership" deterred potential buyers of electric vehicles, and this was reflected in sales numbers. The share of new electric cars (relative to all new cars) fell from 27% in the second half of 2021 to 24% in the first half of 2022.
Grid congestion
The rising number of electric vehicles comes with ever more demand for power. Charging requires a great deal of energy, which can sharply increase peak electricity demand. Economic growth is causing a shortage in transmission capacity for delivery in several places. This is resulting, for example, in business not always being able to locate where they want to. Electricity supply is also fluctuating; as more and more renewable, sustainable energy is generated, the power grid sometimes has too little capacity for feed-in.
Electrical grids can also become locally congested. The expertise center for grid operators, ElaadNL, already forecasts congestion in about 20% of Dutch neighborhoods by 2025. In the near future, avoiding this local grid congestion – not only in the Netherlands – will be one of the most important prerequisites in the transition to electric driving. It is crucial that the charging infrastructure grows in step with the numbers of vehicles.
______________________________________
Groendus PowerD
In March 2023, renewable energy company Groendus acquired PowerD, which has been offering smart-charging solutions for electric cars since 2020. PowerD also won the Automotive Innovation Award in 2021 for its advanced software platform and smart-charging stations. PowerD charges electric cars with power from renewable sources and alleviates drivers and fleet managers. Its offering results in lower energy bills for customers, but is also a solution to peak loads in the electrical grid (i.e. grid congestion).
A large virtual battery
"We charge electric cars in a smarter way, using the ability to store energy in their battery packs and taking current power supply into account," says Pieter Willems, director and founder of PowerD. After all, wind and solar are not constant sources of energy. Usually, more power is generated than consumed. PowerD can predict when such surpluses will occur – and make sure these are precisely the times when electric vehicles are charged. In other words, electric cars can be charged with residual power from solar and wind energy.
The more cars that are charged using this smart solution, the bigger the market for solar and wind energy becomes, as well. Renewable energy then yields more, because eventually there will no longer be negative electricity prices (feed-in). This will lower the threshold for investors to get into solar and wind energy.
"I believe that sustainability moves faster if there is also a commercial benefit to it," says Willems. "Smart charging is attractive to leasing companies and their customers because cheap charging allows them to lease the cars at a lower price or with more extras."
______________________________________
Government policy
Incentive packages from national governments, with tax breaks and purchase rebates for electric vehicles, can have a disruptive effect on the market. Such measures are often short term in nature and vary greatly from country to country. One trend, however, is that they are being phased out.
In the Netherlands, for example, the purchase rebate for new electric cars is being cut from €2,950 (in 2023) to €2,550 (in 2024) to €0 (in 2025). For used electric cars, the rebate will stay at €2,000 until 2025. From 2025 on, it may be cut to €1,000, but this is not yet certain. The same will likely apply to the road tax rebate for electric cars and hybrids, which are also set to end in 2026. According to insiders, uncertainty around incentives is causing reluctance among potential buyers, which could jeopardize the ambitious sustainability goals.
Electric driving: the new normal
In the fight to reduce CO2 emissions, European and American governments have set targets and timetables that will only be achievable if electric driving becomes the new normal. In the European Union, all new cars and vans must be emission-free as of 2035. In the US, the Clean Air Act requires manufacturers to comply with regulations and act accordingly by going full steam ahead with manufacturing electric vehicles. And meanwhile, innovative companies – also in the Netherlands – are putting their best foot forward to smooth out the bumps on the road to electrification. The transition from fossil fuel to electric continues unabated in an environment full of uncertainties. Experts anticipate that the global market share in electric vehicle sales will rise to 30-40% by 2030.